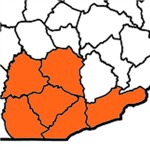 Union College recently established a grant program which could make college much more affordable for students in the local service area.
Union announced the Southeastern Kentucky Grant, a tuition assistance program which will be available to students beginning in the fall of 2016. The new program was unveiled to high school guidance counselors during a conference with Union's financial aid and admissions personnel.
"There is this perception among some students in our service area that Union is not affordable, but that is far from the case," said Craig Grooms, Senior Director of Undergraduate Enrollment. "Our goal here is to help students get tuition covered and begin their college career with one big step forward."
The Southeastern Kentucky Grant is being made available to students in Union's primary service area, which includes the counties of Bell, Clay, Harlan, Knox, Laurel and Whitley. All high school seniors planning for fall 2016 admission are eligible for the program.
To be eligible, students must:
- have a minimum GPA of 3.0 and a minimum ACT of 17
- have their Free Application for Federal Student Aid (FAFSA) completed by January 30
- and have an Estimated Family Contribution (EFC) must be between $0 and $1,000.
Students that meet the criteria will work with financial aid counselors to finalize their tuition obligations. The students' Pell grant, state grants, KEES funding and subsidized loan funds will be allocated toward Union's $24,000 a year tuition. Any amount not covered by those state and federal assistance programs will be directly covered by Union and the Southeastern Kentucky Grant.
"If a student applies by the end of January and our financial aid counselors can get their state and federal tuition funds locked in, Union will make sure that student gets the remainder of their tuition covered," Grooms said.
Union has other tuition programs aimed at helping students get all of their tuition costs covered. Institutional scholarships are awarded in amounts up to $14,000 per year based on the student's academic achievements at the high school level. The U|GRAD scholarship
rewards students for their academic standing and service involvement while at Union, allowing the most dedicated students a waiver for free tuition during their final semester. Scholarships are also available to students for their participation in service and fine arts programs.
In 2014, Union awarded institutional aid to 100 percent of its students. The average scholarship award amounted to $22,498.
"The programs established at Union have the potential to create a great amount of impact for students and their families," Grooms added. "Instead of giving other schools consideration, they will be able to think twice about Union, get tuition covered and begin their education."
To learn more, visit www.unionky.edu/scholarships or contact the financial aid office at 606.546.1223.