Laurel County, KY - Sheriff John Root is reporting that Deputy Jamie Grimes along with Deputy Rick Cloyd and Deputy Brandon Broughton investigated a single vehicle injury traffic crash which occurred on Slate lick Church Road, approximately 4 miles east of London on Thursday afternoon October 8, 2015 at approximately 2:57 PM.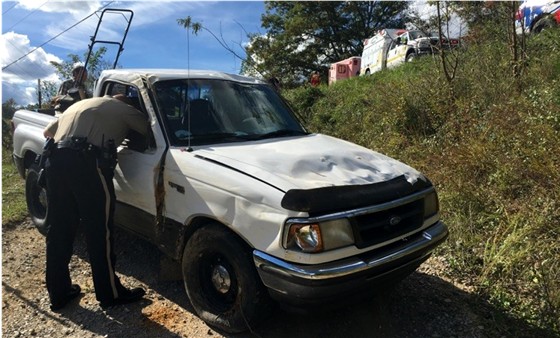 Deputy Grimes reports that apparently a white colored Ford Ranger was traveling eastbound on Slate Lick Church Road when it lost control in a curve traveling off the roadway and rolling down an embankment coming to rest on its wheels.
Occupants in the vehicle were identified as:
The driver: Anthony Allen age 28 of Slate Lick Church Rd., London – transported to London St. Joseph Hospital for treatment and then airlifted onto UK med Center.
Through investigation, Deputy Grimes learned that this subject had allegedly been using meth all day. Deputy Grimes charged the driver with operating a motor vehicle under the influence – third offense – a felony; driving on DUI suspended license – second offense; failure of owner to maintain required insurance – first offense; and numerous other traffic violations. This subject was not lodged due to his injuries from the traffic crash and because he was airlifted to UK med Center. He has a court date in November.
Passengers: Gracie Mason age 32 of Jackson trailer park, Corbin and Lisa Mosley age 50 of Middle Fork Rd., Asher, KY –both were injured and were airlifted from the scene to UK Hospital Lexington for treatment.
Agencies assisting at the crash site included: Ambulance Inc. of Laurel County, London Laurel Rescue Squad, and East Bernstadt Fire Department and Air Evac helicopter.
Photos of the crash site provided by Deputy Jamie Grimes.