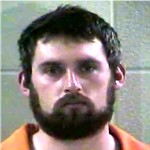 Laurel County, Ky. - Sheriff John Root is reporting that Deputy Brandon Broughton and Deputy Rick Cloyd arrested Timothy Proffitt age 23 of Boardwalk Circle, London on Thursday night October 8, 2015 at approximately 9:58 PM.
The arrest occurred off Boardwalk Circle, approximately 4 miles north of London after deputies were dispatched to a complaint that a male subject was knocking on the door of a female victim, calling her and that she had an active EPO/DVO in place on the male subject.
When deputies arrived at the scene and conducted an investigation they determined that there was an active EPO/DVO. The EPO stated no contact with the victim or her family.
Timothy Proffitt was charged with violation of the Kentucky EPO/DVO. In addition, this individual was wanted on a Laurel County bench warrant of arrest for failure to appear in court.
Timothy Proffitt was lodged in the Laurel County Detention Center.
Photo attached is courtesy of the Laurel County Detention Center.