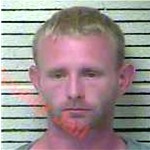 Clay County, KY - According to a Facebook post put up on Friday, October 9, 2015 by the Clay County Sheriff's Office, Sheriff Kevin Johnson is reporting that Deputy Tabert Napier observed a man in his vehicle sitting on the shoulder of the roadway on Ephram Creek Road.
Arrested was:
Jeremiah Wilson age 28 of Paw Paw Road, Manchester.
When Deputy Napier asked Mr. Wilson what he was doing he stated that "he was looking for a bottle in his truck". (Mr. Wilson's wife and two small children were in the vehicle also).
Upon further investigation, Mr. Wilson appeared to be under the Influence of Narcotics due to his slurred speech, and failure to maintain proper balance on his feet.
When Deputy Napier asked Mr. Wilson if he had any drugs or alcohol in his vehicle he advised he did not, but he then produced a few pill tablets from his pocket.
Mr. Wilson stated to Deputy Napier that he had smoked marijuana that day.
Mr. Wilson was arrested and charged with (Poss Cont Sub 1st Degree 1st Off), (Prescription Cont Sub Not Proper Contain 1st Offense), and also (Public Intoxication) and was lodged into the Clay County Detention Center.
Source: Clay County Sheriff's Office
Photo: Clay County Sheriff's Office via the Clay County Detention Center