(Richmond, KY) – The Kentucky State Police, Richmond Post, responded to a residence on Raven Drive in Berea this morning just before 3:00 a.m., after receiving a complaint of someone shooting a firearm.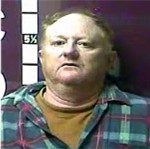 The initial investigation alleges that when officers arrived on scene, the suspect fired gunshots toward them, at which time they returned fire. Following the officer involved shooting, the suspect returned to his residence and barricaded himself inside.
Officers' at the scene established a perimeter around the residence and KSP Special Response Team was contacted. Once the KSP Special Response Team responded to the scene, Herold Hill, 58 years old of Berea, was successfully taken into custody at approximately 9:00 a.m. EDT.
Herold Hill has been arrested and charged with two counts of Attempted Murder of a Police Officer, and is lodged at the Madison County Detention Center.
Neither the officers or the suspect were injured during the shooting. The ongoing investigation is being conducted by KSP Lt. Scott Felder. He was assisted at the scene by KSP personnel, Madison County Sheriff's Office, Richmond Police Department, and Berea Police Department.
Photo of the accused courtesy of the Madison County Detention Center.