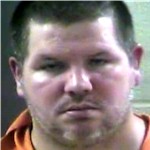 Laurel County, KY - Sheriff John Root is reporting that Sgt. Larry Parrott along with Deputy Tommy Houston arrested William Miracle, age 34, of Casey Road, Corbin early Thursday morning, October 15, 2015, at approximately 1:35 AM.
The arrest occurred off of S. Stewart Rd., approximately 11 miles south of London after deputies determined through investigation that the subject had driven his black colored Nissan Altima to Walmart in southern Laurel County while under the influence of narcotics.
This subject also had his girlfriend and two small children in the vehicle at the time. Following an investigation, deputies learned that the subject had taken Suboxone, Xanax, and smoked methamphetamine earlier before driving his vehicle.
The subject was determined to be under the influence. William Miracle was charged with operating a motor vehicle under the influence – first offense; wanton endangerment – second degree; assault – fourth degree – child abuse; and failure of owner to maintain required insurance – first offense.
Deputies learned that this subject had allegedly been observed striking a six-year-old male child too hard even though the child's mother protested.
This subject was lodged in the Laurel County Detention Center.
Photo of accused is courtesy of the Laurel County Detention Center.