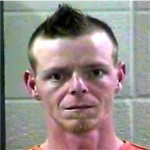 Laurel County, KY - Sheriff John Root is reporting that Deputy Rick Cloyd arrested Larry Allen age 36 Of Barbourville St., London on October 10, 2015 at approximately 6:38 PM.
The arrest occurred at Walmart near Corbin in southern Laurel County after Deputy Cloyd was dispatched to a complaint of a male subject walking around in the parking lot there acting suspicious and looking into vehicles in the parking lot.
When Deputy Cloyd arrived at the scene, located this individual and conducted an investigation he found this subject in possession of over $68 worth of merchandise that had not been paid for in the store.
Larry Allen was charged with theft by unlawful taking – shoplifting and criminal trespassing – third-degree and was lodged in the Laurel County Detention Center.
Photo attached is courtesy of the Laurel County Detention Center.