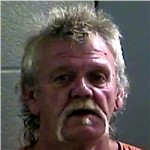 Laurel County, KY - Sheriff John Root is reporting that Sgt. Larry Parrott arrested Ricky Collins, age 55, of Copley Rd., Corbin early Friday morning, October 16, 2015, at approximately 3:58 AM.
The arrest occurred off of Copley Road approximately 8 miles south of London after Sgt. Parrott was dispatched to a possible domestic dispute where assault was taking place.
When Sgt. Parrott arrived at the scene and conducted an investigation, he learned from the female victim that she had allegedly been struck in the head during the dispute.
Sgt. Parrott observed a red swollen place on the side of her head. Once the male subject there was arrested, he began to curse the victim and created a disturbance in the area all the way to the police car, cursing Sgt. Parrott and hitting his fists on the protective screen inside the police car.
Ricky Collins was charged with assault – fourth degree – domestic violence and disorderly conduct – second-degree and was lodged in the Laurel County Detention Center.
Photo of accused is courtesy all the Laurel County Detention Center.