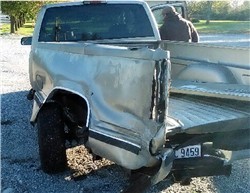 Laurel County, KY - Sheriff John Root is reporting that Deputy Josh Scott investigated a single vehicle hit and run non-injury traffic crash which occurred on KY 363, approximately 1 mile south of London on Sunday morning October 18, 2015 at approximately 8 A.M.
Apparently according to the investigating deputy a 1998 gold colored Chevrolet pickup was traveling northbound on ky 363 when the driver lost control of the vehicle and then colliding with a utility pole.
The driver then fled the scene, and was located a short time later by London city police officers on KY 363.
Deputy Scott continued his investigation and identified the driver as Joseph Zeo age 21 of Hamilton, Ohio charging him with leaving the scene of an accident.
Photo of the crash site provided by Deputy Josh Scott.