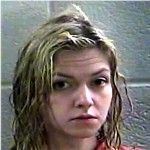 Laurel County, KY - Sheriff John Root is reporting that Deputy Tommy Houston along with CSO Ethan Lewis arrested Lisa West age 30 of KY 3441, Barbourville early Sunday morning October 18, 2015 at approximately 1:04 A.M.
The arrest occurred off KY 1223, approximately 10 miles south of London after Deputy Houston was dispatched to a non-injury traffic crash on US 25 South. Deputy Houston determined that this subject was driving a black colored Nissan Altima, and found at the scene of the crash that this subject had the odor of alcoholic beverages emitting from her person.
An investigation was conducted and this subject was determined to be under the influence.
Lisa West was charged with operating a motor vehicle under the influence – first offense, no operator's license and failure to produce insurance card and was lodged in the Laurel County Detention Center.
Photo attached is courtesy of the Laurel County Detention Center.