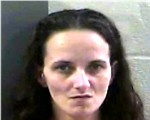 Laurel County, KY - Sheriff John Root is reporting that Deputy Josh Scott arrested Michelle Faulkner age 32 of Blue Bonnet Cir., Corbin on Monday afternoon October 19, 2015 at approximately 2:22 P.M.
The arrest occurred at Walmart near Corbin in southern Laurel County after Walmart's loss prevention team detained this subject.
When Deputy Scott arrived at the scene and conducted an investigation he learned that this subject at allegedly attempted to leave Walmart without paying for merchandise valued at $37.09.
In addition through investigation Deputy Scott learned that this subject had previously been caught on two other occasions shoplifting at Walmart and had been banned from the store.
Michelle Faulkner was charged with Criminal Trespassing – third-degree and was lodged in the Laurel County Detention Center.
Photo attached is courtesy of the Laurel County Detention Center.