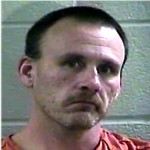 Laurel County, KY - Sheriff John Root is reporting that Sgt. Larry Parrott arrested Joel Terrell age 41 of London early Thursday morning, October 22, 2015, at approximately 12:37 AM. The arrest occurred off of KY 3431 off American Greeting Card Road, approximately 8 miles south of London after Sgt. Parrott conducted a traffic stop on a black Jeep Cherokee that pulled out in front of him.
During the traffic stop, Sgt. Parrott determined that this driver was under the influence. Joel Terrell was charged with operating a motor vehicle under the influence – first offense.
In addition, another subject in vehicle-- Angel McCulley age 32 of Wyatt Road, London was charged on a Rockcastle County bench warrant of arrest for failure to appear in court on charges of illegal possession of a legend drug; possession of a controlled substance – third-degree; prescription controlled substances not in proper container – first offense; and possession of drug paraphernalia.
Both subjects were lodged in the Laurel County Detention Center.
Photo attached of Joel Terrell is courtesy of the Laurel County Detention Center.