Laurel County, KY - Sheriff John Root is reporting that Detective Jason back along with Detective James Sizemore arrested two individuals on Wednesday evening, October 21, 2015, at approximately 5:32 PM.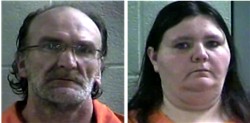 The arrest occurred off of Reams Lane, near London after detectives conducted a drug investigation following information that was developed after a male juveniles' mother intercepted information where 3 adults were attempting to sell a quantity of narcotic pills to her son, and she contacted the sheriff's office.
A search warrant was obtained, and sheriff's detectives and deputies executed it at a residence on Reams Lane, and two of the three suspects were arrested and a quantity of narcotic pills were seized.
The two arrested are identified as Jeffrey Fleming, 51, and Michelle Lewis, 32, both of Reams Ln., London, charged with trafficking in a controlled substance – first-degree – first offense and both individuals were lodged in the Laurel County Detention Center.
Assisting on the investigation and arrests were: Capt. Chuck Johnson, Sgt. Robbie Grimes, Deputy Rick Cloyd, Deputy Brandon Broughton, Deputy Kyle Gray, and Deputy Gilbert Acciardo.
Photos attached of accused is courtesy of the Laurel County Detention Center.