McConnell Bill to Address Prenatal Addiction and Infant Opioid Withdrawal One Step Closer to Becoming Law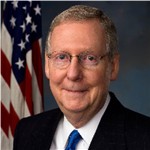 Senator McConnell 
.be" mce_href=".be" target="_blank" title="This external link will open in a new window" style="font-size: large; font-style: italic;" mce_style="font-size: large; font-style: italic;">
comments
on legislation in Senate floor speech
WASHINGTON, D.C. – U.S. Senate Majority Leader Mitch McConnell announced yesterday that his legislation to address the rise of prenatal opioid abuse and infants suffering from opioid withdrawal passed the U.S. Senate. Senator McConnell introduced the Protecting Our Infants Act earlier this year with Senator Bob Casey (D-PA) and Senator Kelly Ayotte (R-NH). The legislation now moves to the House of Representatives for consideration.
"I was pleased to see the Senate pass the bipartisan Protecting Our Infants Act," Senator McConnell said. "As prescription drug abuse and heroin use has increased in Kentucky and other states across the nation, no demographic, socio-economic status, age or gender has been left untouched. One heartbreaking aspect of this crisis is the increasing number of infants who are born dependent on opioids in the form of prescription painkillers and heroin."
Researchers estimate that nationwide, one baby every hour is born dependent on drugs and suffering from withdrawal. Nationwide, there has been a staggering 300-percent increase in the number of infants diagnosed with newborn withdrawal since 2000. In Kentucky, that number grew by an almost 3,000 percent -- from 29 infants identified as suffering from drug withdrawal annually to more than 950, and experts believe there are even more cases that go unreported.
This bipartisan bill would direct the Secretary of Health and Human Services (HHS) to conduct a departmental review to identify gaps in research and any duplication, overlap or gaps in prevention and treatment programs related to prenatal opioid abuse and infants born with opioid withdrawal. It also would direct the HHS to work with stakeholders to develop recommendations both for preventing prenatal opioid abuse, and for treating infants born dependent on opioids.  Finally, this measure would encourage the director of the U.S. Centers for Disease Control and Prevention to work with states and help improve their public health response to this epidemic.
"This situation is not only heartbreaking, it's intolerable," Senator McConnell said. "These children are the most innocent members of society, and we must do all we can to protect them. No piece of legislation can fix this problem overnight, but I believe the Protecting Our Infants Act is a vital step forward in helping ensure that our public health system is better equipped to prevent and treat prenatal opioid addiction and the resulting infants who are born dependent on opioids."
The legislation was introduced in the House of Representatives by Representatives Katherine Clark (D-MA) and Steve Stivers (R-OH). The Protecting Our Infants Act is supported by the March of Dimes, American Academy of Pediatrics and the American Congress of Obstetricians and Gynecologists.