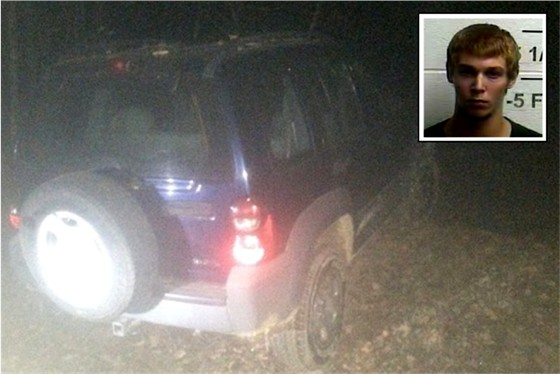 Whitley County, KY - Sheriff Colan Harrell is reporting that local law enforcement had been looking for a dark blue Jeep Liberty thathad been reported stolen from Town and Country Motors, which is located along Hwy. 25 in the Goldbug area.
Because a motorcycle had once been stolen from the same dealership and recovered in the Hemlock community, Dep. Harrell went to that area in an effort to gain information of the Jeep's potential whereabouts.
Over a 10-hour period and while responding to other calls, Dep. Harrell investigated numerous tips. Eventually he learned the name of a suspect and the potential location of the stolen vehicle .
That information led deputies to the Canadatown community. After walking approximately 100 yards from Craig Road, the deputies located the Jeep. The next tow company on the department's rotating list was used to remove the vehicle from the wooded location.
Shannon Wiley, 18 of Williamsburg was questioned and later arrested. He is charged with theft by unlawful taking of an automobile and first-degree burglary.
Assisting in the investigation were Sergeant Kirk Mays, Dep. James Fox, Dep. Jonas Saunders and Dep. David Rowe. Wiley was lodged in the Whitley County Detention Center.
Sheriff Colan Harrell said, "This is another great example of the public and the police working together. The tips led to an arrest and the property being returned to the owners."
Photo of vehicle by Whitley County Sheriff's Department.
Inset photo of the accused courtesy of the Whitley County Detention Center.