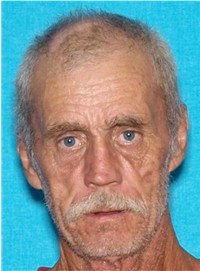 (Burkesville, KY.) – The Kentucky State Police are attempting to locate 62-year-old Floyd Ray Cook, of Lebanon KY. Kentucky State Police received an attempt to locate on Cook at approximately 4:00 PM CST in reference to an officer involved shooting that occurred Saturday in Algood, TN.
Tpr. Jeremy Baker located the vehicle on KY 61 south of Burkesville and attempted to make a traffic stop when Cook fled onto Franklin Spears Road. Cook wrecked his vehicle and began shooting at Baker from within the truck. Tpr. Baker returned fire and reported shots fired to Post 15 dispatch at approximately 5:04 PM CST. The Trooper was not injured and Cook fled from the scene on foot. KSP recovered the vehicle, set up a perimeter and began searching.
The Kentucky State Police Special Response Team was activated and tracked Cook into the early hours of Sunday morning before suspending the search due to weather and darkness. The search resumed at daybreak and KSP received information from a homeowner that he had seen Cook enter his residence on Dulworth Road. A search warrant was obtained and the Special Response Team made entry into the residence late Sunday night. Cook was not in the residence.
KSP is asking for the publics assistance in locating Floyd Ray Cook who is wanted for the Attempted Murder of a Police Officer. Floyd Ray Cook is a 6', 160 lb. white male with blue eyes, grey balding hair and grey facial hair. He was last seen wearing blue jeans and a green "Carhart" type jacket. Cook should be considered armed and dangerous.
If anyone has information regarding his whereabouts please contact the Kentucky State Police at 1-800-222-5555 or any law enforcement agency at 911.