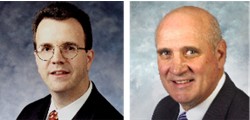 Proposed changes include Senate confirmation of appointed members, review of contracts by legislative committee
FRANKFORT, Ky. (October 28, 2015) – Representative Mike Harmon, R-Danville (54th District), and Senator Joe Bowen, R-Owensboro (8th District), who is chairman of the Senate Committee on State and Local Government, have announced they are filing bills in both the House and Senate with the goal of bringing more transparency and legislative oversight of the Kentucky Retirement Systems (KRS), and the Kentucky Teachers' Retirement System (KTRS).
The legislation being filed by Sen. Bowen, which is Bill Request 427, and Rep. Harmon's Bill Request 85 would place four legislators, two from the Senate and two from the House, as non-voting ex-officio members of the KRS and KTRS boards. The proposal also requires members appointed to the boards of both retirement systems to be subject to Senate confirmation, and removes the procurement code exemption for KRS and KTRS, which allows all contracts issues by both systems to be reviewed by the Government Contract Review Committee.
Both legislators say the continued problems within KRS and KTRS, combined with the recent decision by the KRS board to give its executive director a 25 percent pay raise in the face of continued decreases in investment returns prompted their decision to file legislation for the 2016 session.
"The actions by the KRS board last week fly in the face of the thousands of current and retired state employees, many of whom are gravely concerned about the financial stability of their retirement system," said Sen. Bowen. "Couple that with continued concerns among retired and current teachers about KTRS, and the need to make necessary changes as well as addressing the financial challenges within that system, I believe it's time we in the General Assembly take the bull by the horns and bring these retirement systems in line."
"I have been calling for several months for a comprehensive audit of KRS, which is especially needed now given their decision to raise their executive director's annually salary by nearly $44,000," added Rep. Harmon. "While their chairman told the press they don't work for the General Assembly, we work for those people who expect a stable, well run public pension system. If the boards of KRS and KTRS can't accomplish that, we will make sure they do by shining a light on their actions and, if needed, hold them accountable."