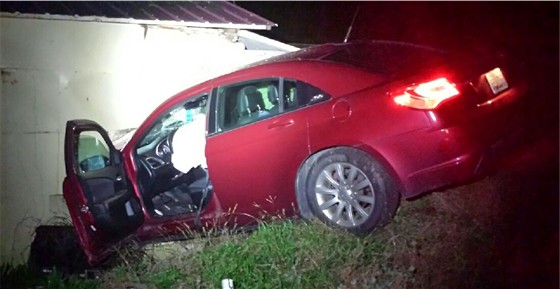 Laurel County, KY - Sheriff John Root is reporting that Deputy Rick Cloyd investigated a single vehicle non-injury traffic crash which occurred on River Road, approximately 2 miles south of London on Wednesday night October 28, 2015 at approximately 8:35 P.M.
The investigating deputy reports that apparently a maroon colored Chrysler car was traveling westbound on KY 1189. The driver stated that something was in the roadway and he swerved, losing control of the vehicle and left the roadway striking a culvert at the intersection of KY 1189 and Park Subdivision Road.
The vehicle then went airborne crossing Park Subdivision Road and crashing into the side of Baker's Bodyshop – paint shop building.
The driver was identified as Michael Angel age 40 of Manchester, KY – not injured.
Photo of crash site provided by Deputy Rick Cloyd..