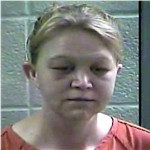 Laurel County, KY - Sheriff John Root is reporting that Deputy Charlie Johnson arrested Christy Duh, age 31, of Maddox Lane, Lexington, KY on Saturday afternoon, October 31, 2015, at approximately 12:02 PM.
The arrest occurred off of Poppy Lane, approximately 8 miles south of London after this subject was determined to be under the influence.
Christy Duh was charged with alcohol intoxication in a public place and was lodged in the Laurel County Detention Center.
Photo attached is courtesy of the Laurel County Detention Center.