Manchester, Ky. - MPD is reporting that on November 3, 2015 Manchester Police Officer Jason Combs was dispatched to a call of a woman slumped over in a motorized wheelchair in the Richmond Road area of Manchester.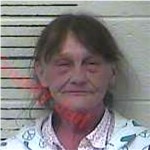 Upon arrival Manchester Police Officers discovered Carol Miller age 65 of Manchester under the influence.
Carol Miller was arrested and charged with operating a motor vehicle under the influence.
Photo courtesy of the Clay County Detention Center.