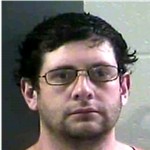 Laurel County, Ky. - Sheriff John Root is reporting that Sgt. Robbie Grimes along with Deputy Brandon Broughton arrested Billy Spencer age 37 of Cox Ln., London on Tuesday night November 3, 2015 at approximately 7:30 PM.
The arrest occurred off Esquire Lane in London after deputies investigated a domestic violence complaint which had occurred off Cox Lane, approximately 5 miles west of London.
Allegedly a physical altercation had occurred there between this subject and his wife where allegedly this subject's juvenile son stepped in to protect his mother and then this subject's juvenile daughter stepped in to protect her brother.
The son allegedly suffered from bite marks which required medical attention and the daughter had visible bruising on her legs. Also allegedly both children were choked during the altercation.
Social services was notified and responded to the hospital and both children were removed and placed with relatives.
Billy Spencer was charged with two counts of assault – fourth degree – child abuse and was lodged in the Laurel County Detention Center.
Photo attached is courtesy of the Laurel County Detention Center.