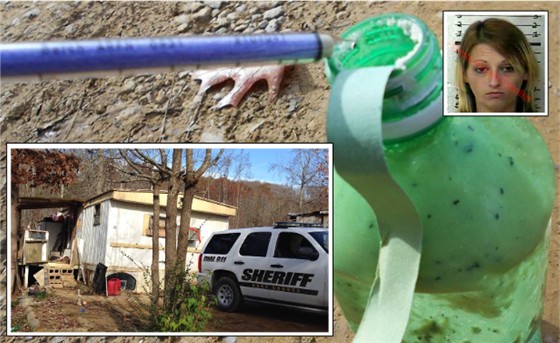 Knox County, KY - Sheriff Mike Smith is reporting that on November 11, 2015 Knox County Deputy Keith Liford investigated an anonymous complaint of a Meth Lab at a residence on Arkle Hollow Road in Gray.
While conducting the investigation, several ingredients used in the manufacturing of methamphetamine and a coffee filter containing a white powder residue were found. Deputy Liford also located an active one step Meth Lab inside the residence.
Deputy Liford arrested Anita Perry age 27 of Gray, KY charging her with Manufacturing Methamphetamine, Possession of Controlled Substance 1st Degree/Methamphetamine, Unlawful Possession of Methamphetamine Precursors and Tampering with Physical Evidence.
Anita Perry was lodged in the Knox County Detention Center.
Knox County Constable Reed Murphy assisted at the scene.
A Kentucky State Police DESI Meth Disposal Unit member also responded to the scene taking possession of the active lab.
Inset photo of the accused courtesy of the Knox County Detention Center.
Photos from scene: Knox County, Ky. Sheriff