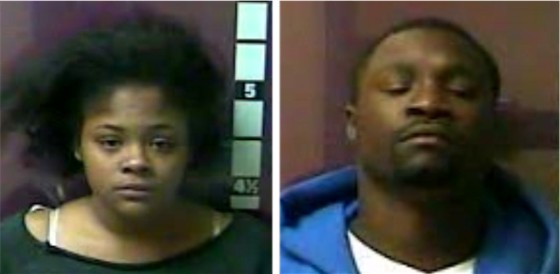 Berea, Ky. – Kentucky State Police pursued and captured two wanted subjects after the subjects ran from Berea Police.
On Wednesday, November 11,2015 at approximately 2:28 P.M., a Berea Police Officer began investigating a possible drug complaint at the Days Inn, Richmond.
When the officer approached the suspect, the male fled on foot, jumped into a nearby car and fled the scene. Officer Chris Whicker pursued the suspect, sustained minor injuries in the foot pursuit, and immediately contacted Madison County Dispatch with vehicle information.
Kentucky State Police located the suspect vehicle near the I-75 on ramp, mile marker 97. The vehicle fled from police northbound on I-75. Due to heavy traffic, Units were forced to use a tire deflation device and legal intervention to stop the black 2007 Pontiac G6 passenger car.
The driver of the vehicle, Princess Nicole Thomas, age 21, of New Port, KY was arrested and charged with Speeding, Fleeing and Evading 1st, Reckless Driving, Wanton Endangerment-Police (4 counts), Operating on A Suspended License and Warrants.
A passenger in the vehicle, Najee Raheem Appling, age 28, of Detroit, MI, was arrested for Fleeing and Evading 2nd (On Foot), and Warrants for Parole Violation.
Further charges may be pending.
Berea Officer Whicker was treated and released from Saint Joseph Berea Hospital for minor injuries.
Both subjects were lodged in the Madison County Detention Center.
Kentucky State Police were assisted at the scene by Commercial Vehicle Enforcement, and Lexington Metro Police Department.
The investigation is continuing by the Kentucky State Police, Post 12 Frankfort and Post 7 Richmond.
Photos of the accused courtesy of the Madison County Detention Center.