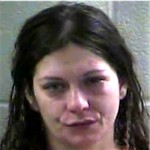 Laurel County, KY - Sheriff John Root is reporting that Deputy Tommy Houston along with Deputy Jamie Grimes and Deputy Kyle Gray arrested Christina Surgener, age 34, of Barbourville Rd., London, on Sunday night, November 15, 2015, at approximately 11:01 PM.
The arrest occurred off of Sibert Lane, approximately 8 miles east of London after deputies were dispatched to a complaint that a female subject had called 911 reporting that a male subject at the residence there was attempting to kill her. The female at that residence advised police dispatchers that a male subject was armed with a 12 gauge shotgun and was going to kill her.
When deputies arrived at the scene and conducted an investigation, they learned that this subject and her boyfriend had allegedly been involved in a physical altercation, however both subjects advised no physical altercation had taken place and no one had called the police.
This subject changed her story several times to deputies at the scene concerning the incident. Further investigation by deputies determined that this subject had allegedly been yelling and cursing at neighbors outside of the residence.
Christina Surgener was charged with disorderly conduct – second degree; falsely reporting an incident; and alcohol intoxication and was lodged in the Laurel County Detention Center.
Photo attached is courtesy of the Laurel County Detention Center.