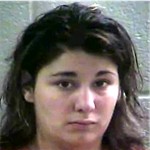 Laurel County, KY - Sheriff John Root is reporting that Deputy Josh Scott arrested April Robinson age 24 of West Hwy. 1376, East Bernstadt on Tuesday morning November 17, 2015 at approximately 8:27 AM.
The arrest occurred off Old Whitley Road, approximately 1/10 of a mile south of London after Deputy Scott was dispatched to a non-injury hit and run traffic crash in the parking lot of a business there.
When Deputy Scott arrived at the scene and conducted an investigation he learned that witnesses had apparently observed a vehicle hit a parked vehicle, then move their vehicle to the other side of the parking lot. Witnesses had apparently written down the tag number of the run vehicle.
Fresh paint and damage from the suspect's vehicle was matched up to the victim's vehicle.
April Robinson was charged with Leaving the Scene of an Accident and was lodged in the Laurel County Detention Center.
Photo attached is courtesy of the Laurel County Detention Center.