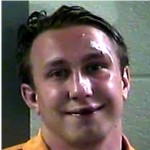 Laurel County, KY - Sheriff John Root is reporting that Deputy Shawn Jackson along with Deputy Tommy Houston arrested Logan North, age 33, of Echo Valley Rd., Lily, early Tuesday morning, November 17, 2015, at approximately 3:15 AM.
The arrest occurred off of Boggs Cemetery Road, approximately 1 mile east of London after deputies were dispatched to a possible fight in progress there.
When deputies arrived at the scene, they located a male subject outside laying in the yard and conducted an investigation determining that this subject was under the influence.
Upon arrest, this subject advised deputies that he was so intoxicated that he needed help walking to the police car. This subject further advised that he had been drinking all night at a party and had too much to drink.
Logan North was charged with alcohol intoxication in a public place.
Logan North was lodged in the Laurel County Detention Center.
Photo attached is courtesy of the Laurel County Detention Center.