Bledsoe, Ky. – On November 16, 2015 at 1:40 a.m. Troopers from Post 10 Harlan observed a white 2000 Ford F-150 travelling westbound on Ky 221 at a high rate of speed and on the wrong side of the road.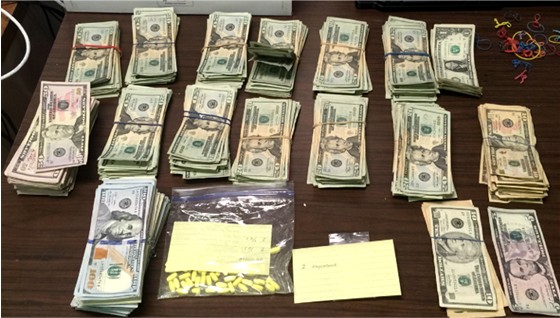 Tpr.Taylor Mills conducted a traffic stop in the Bledsoe community of Harlan County and determined that the operator of the vehicle was under the influence.
During the traffic stop, troopers saw two oxycodone pills in plain view in the floor board of the vehicle. Troopers also located 48 hydrocodone pills concealed in an ashtray and $36,680.00 in cash located in a black shaving bag, under the hood of the vehicle.
The operator of the vehicle, Charles J Gilbert, 62, of Middlesboro was arrested and charged with the following charges.
1. Driving improperly on left side of roadway
2. Reckless driving
3. Failure to wear seatbelt
4. DUI 1st offense
5. Trafficking Controlled Substance 1st degree 1st offense (2 counts)
6. Acquired property from income from trafficking in controlled substance
7. Possession of marijuana
8. Possession of drug paraphernalia
Mr. Gilbert was lodged in the Harlan County Detention Center.
Case is still under investigation by Tpr. Taylor Mills. Also assisted at the scene were TFC. Kevin Miller, Tpr. Brandon Burton, Tpr. Rodney Sturgill, Tpr. John Carlock, Sgt. Jay Perkins, and Sgt. Jason Joseph.