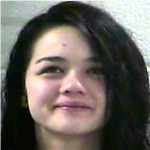 Laurel County, KY - Sheriff John Root is reporting that Sgt. Larry Parrott along with Deputy Andrew Lawson assisted by Trooper Chris Saunders arrested Ashley Wilburn, age 21, of Highway 1223 apartments, Corbin, early Thursday morning, November 19, 2015, at approximately 1:09 AM.
The arrest occurred off KY 1223 approximately 11 miles south of London after officers responded to a complaint of a possible domestic there. Upon arrival, officers conducted an investigation and learned that a male and a female subject there had allegedly got into an argument and it became physical when the female subject allegedly assaulted the male subject causing a scratch on the victim's cheek and his neck.
Also, the apartment was all torn apart and had been trashed prior to the officer's arrival. Ashley Wilburn was charged with assault – fourth degree – domestic violence and was lodged in the Laurel County Detention Center.
Photo attached is courtesy of the Laurel County Detention Center.