Laurel County, KY - Sheriff John Root is reporting that Deputy Kyle Gray along with Deputy Brandon Broughton and Deputy Travis Napier were dispatched to a possible injury traffic crash on Pistol Creek Road, approximately 8 miles east of London on Monday night, November 23, 2015, at approximately 8:56 PM.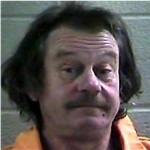 While en route to the traffic crash, deputies learned that the driver of the motor vehicle involved in the crash was refusing to cooperate with EMS and fire department personnel on the scene.
When deputies arrived at the scene, they located a male subject in the driver seat of a silver colored Toyota pickup who was refusing to exit his vehicle. When the driver finally exited his vehicle he became even more belligerent, yelling and cursing at firefighters and EMS workers on the scene.
Deputies detected the odor of alcoholic beverages emitting from the subject and following a brief struggle, the driver was taken into custody.
EMS personnel attempted to check the driver, but he refused treatment.
The driver was determined to be under the influence and was arrested and was identified as Carl Hammons, age 59, of highway 687, London, charged with operating a motor vehicle under the influence – first offense; disorderly conduct – second degree; and resisting arrest and was lodged in the Laurel County Detention Center. McWhorter Volunteer Fire Department assisted at the scene.
Photo attached is courtesy of the Laurel County Detention Center.