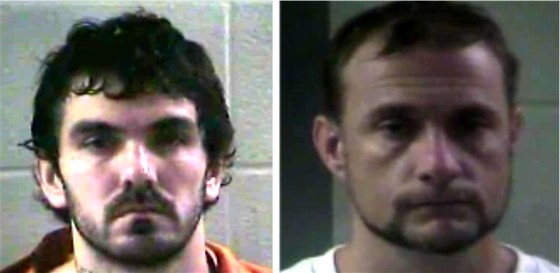 Laurel County, KY - Sheriff John Root is reporting that Sgt. Larry Parrott along with Lieut. Greg Poynter, and Sgt. Brett Reeves and Detective Kevin Berry and Deputy Kyle Gray arrested two individuals on Thursday evening, November 26, 2015 at approximately 6:01 PM.
The arrests occurred at Walmart near Corbin in southern Laurel County after Walmart's loss prevention team observed subjects concealing merchandise and attempting to leave the store without paying for the items.
When deputies attempted to arrest Darrell Wilson, one of the two subjects, he attempted to run away and this subject began to fight and struggle with deputies and after arrested, deputies found a knife under this subject's jacket that he had apparently been reaching for during the struggle with deputies.
Darrell Wilson age 33 of Cloverport, KY was charged with theft by unlawful taking – shoplifting, fleeing or evading police – second-degree – on foot, resisting arrest, disorderly conduct – second-degree, public intoxication – controlled substances, giving officer false name or address and criminal mischief – third-degree. Deputies found this subject's pockets full of unpaid Walmart merchandise valued at over $55. In addition, this subject admitted to smoking methamphetamine earlier.
Also arrested was a second subject identified as James Sheets age 34 of Lower River Road, Louisville, KY charged with theft by unlawful taking – shoplifting.
The two subjects were lodged in the Laurel County Detention Center.
Photos attached are courtesy of the Laurel County Detention Center.