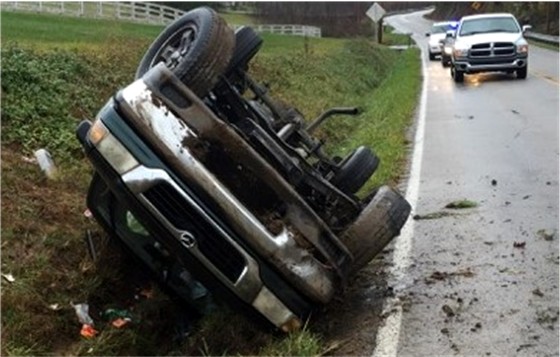 Laurel County, KY - Sheriff John Root is reporting that Deputy Kyle Gray investigated a single vehicle injury traffic crash which occurred on Ky. 490, approximately 8 miles north of London on Sunday afternoon November 29, 2015 at approximately 3:45 PM.
The investigating deputy reports that apparently a Mazda pickup was traveling southbound on Ky 490 when it started sliding on the rain slick highway and hit the ditch, and flipped over.
The driver was identified as: Mitchell Isaacs age 52 of Jackson Road, East Bernstadt and was transported by Ambulance Inc. Laurel County to St. Joseph Hospital London for treatment of injuries.
Assisting at the scene of the crash was the East Bernstadt Volunteer Fire Department.
Photo of crash site provided by Deputy Kyle Gray.