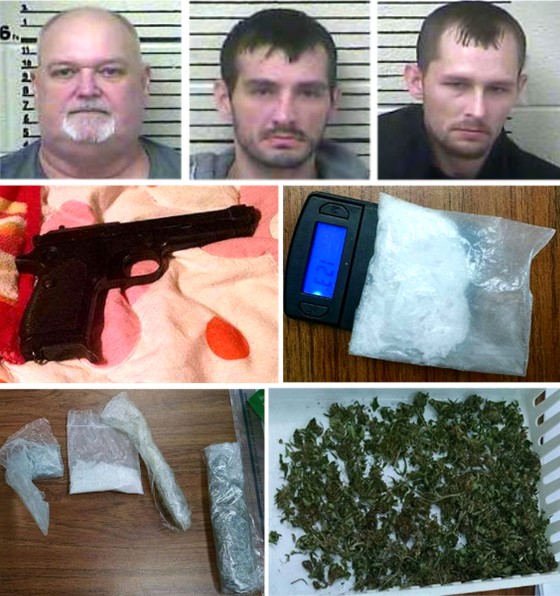 Clay County, KY - Sheriff Kevin Johnson is reporting three arrests made on Monday, November 30, 2015 on Greasy Road approximately 2 miles west of Manchester.
The arrests occurred after Deputy Taye Napier went to a residence on Greasy Road to check on Bobby Sizemore, who is a home incarceration participant.
Deputy Taye Napier was accompanied at the scene by Kentucky State Police who were seeking Jamie Sizemore, the brother of Bobby Sizemore, on a separate complaint.
Upon arrival and knocking on the door the officers could hear a loud noise, sounding like someone running in the house as if they were trying to hide something or run to a window or a door. A short time later, two females opened the door. The officer's then asked where Bobby Sizemore was and were advised that he was inside the house.
The officer's spoke with the property owner Vida Vallance, who stated that there were firearms present inside the residence and that they were welcome to come inside.
Upon entering the residence Trooper Jarrod Smith and Trooper Jake Roberts made their way to the master bath where Jamie Sizemore was said to be. Deputy Taye Napier proceeded to make way to the other bathroom in which Mr. Bobby Sizemore was located.
There were several hand guns and long rifles located in the master bedroom of the residence.
After further investigation Trooper Roberts located Methamphetamine and Marijuana in the bathroom that Mr. Jamie Sizemore was found to be in.
After further investigation, Bill Arnold who was visiting the residence, stated that he had Marijuana in his possession, he then produced a clear plastic bag of suspected Marijuana, also found was a black bag which Mr. Arnold claimed to be his and a Mason jar containing Marijuana.
Billy Arnold age 59 was arrested and charged with Traff. in Cont Sub, 1st Degree, 1st Off-(> Or = 2 GMS Methamphetamine).
Jamie Sizemore age 27 was arrested and charged with Possession of Firearm by Convicted Felon, Poss Cont Sub 1st Degree, 1st Off (methamphetamine), also Tampering with Physical Evidence.
Bobbie Sizemore was arrested for a bond revocation from a prior charge.
All three subjects were lodged into the Clay County Detention Center.
Photos of the accused courtesy of the Clay County Detention Center.
Scene photos by Deputy Taye Napier.
Source: Clay County Sheriff's Office