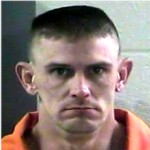 Laurel County, KY - Sheriff John Root is reporting that Sgt. Brett Reeves arrested Tommy Barton age 37 of Corbin on Sunday morning December 6, 2015 at approximately 11:35 AM.
The arrest occurred on KY 2392, approximately 9 miles south London after Sgt. Reeves was dispatched to a non-injury traffic crash there involving a gray colored Ford Ranger.
When Sgt. Reeves arrived at the scene and conducted an investigation he determined that the driver was under the influence. The driver stated he had smoked marijuana and meth prior to operating a motor vehicle.
Tommy Barton was charged with operating a motor vehicle under the influence – first offense; possession of marijuana; and possession of drug paraphernalia and was lodged in the Laurel County Detention Center.
Photo attached is courtesy of the Laurel County Detention Center.