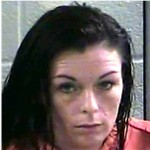 Laurel County, KY - Sheriff John Root is reporting that Sgt. Robbie Grimes arrested Marcia Drury, age 36, of Valentine Branch Road, Girdler, KY, on Tuesday afternoon, December 8, 2015, at approximately 2:26 PM.
The arrest occurred at Walmart near Corbin in southern Laurel County after Walmart's loss prevention team detained this subject. When Sgt. Grimes arrived at the scene and conducted an investigation, he learned that this subject had allegedly attempted to remove over $156 worth of merchandise from the store without paying for it.
In addition, this subject had previously been told to not be back on Walmart's property. Marcia Drury was charged with theft by unlawful taking – shoplifting; criminal trespassing – third-degree; and public intoxication – controlled substances – this subject was determined to be under the influence and stated that she had taken Suboxone earlier in the day.
Marcia Drury was lodged in the Laurel County Detention Center.
Photo attached is courtesy of the Laurel County Detention Center.