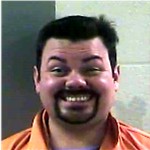 Laurel County, KY - Sheriff John Root is reporting that Deputy Shawn Jackson arrested James Couch, age 36, of HWY. 421, Stinnett, Kentucky, early Friday morning, December 11, 2015, at approximately 4:17 AM.
The arrest occurred off Conley Road, approximately 3 miles east of London after Deputy Jackson was dispatched to a complaint that a male subject was allegedly breaking into a female subject's car at her residence.
When Deputy Jackson arrived at the scene, he located this subject in the yard close to the car and conducted an investigation determining that this subject was under the influence.
This subject told Deputy Jackson that he was a County Official from Leslie County and that he had been in the car with the seat laid-back resting. However it was determined that he had not been in the vehicle.
The homeowner and others in the neighborhood stated they did not know this subject. This subject caused alarm in the neighborhood. James Couch was charged with disorderly conduct – second degree; criminal trespassing – third-degree; and alcohol intoxication in a public place and was lodged at in the Laurel County Detention Center.
Photo attached is courtesy of Laurel County Detention Center.