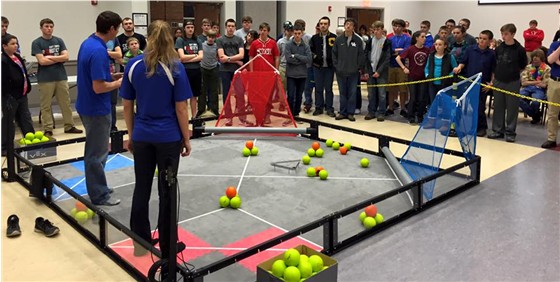 Manchester, KY - December 12, 2015 saw scores of young science enthusiasts and technically skilled students from near and far converge upon the EKU Manchester Campus to participate in the regional VEX Robotics Competition. Students from the Clay County High School robotics program, led by Mr. Mitch Hawkins, hosted the event which brought competitors from various Kentucky high schools in Shelbyville, Georgetown, Somerset, Danville, and as far away as West Virginia.
Students from the various Engineering Technology programs had to design, create, and demonstrate various skills and abilities based upon the knowledge they gained from classroom instruction. Mr. Doug Klein, State Director for Project Lead the Way at the University of Kentucky, was on site to help coordinate competitive activities. Students had to design robots to complete specific tasks and to be able to accomplish scoring feats while on the competition field with other robots. Teams of students take anywhere from 40-60 hours to design and build their robots. Teams also had to create the digital circuits and program them for remote control devices which are commanded by a team member while in the heat of battle with other robots.
Mr. Terry Gray, Director of EKU Manchester, was beaming with pride as approximately 300 students, teachers, and community members were on campus to see a showcase of STEM (science, technology, engineering, math) talent. This was the first such event at the campus and the parking lots were to full capacity, the conference center was standing room only, and the hallway corridors were busy with numerous school teams tweaking and adjusting their robots and preparing for their competition. For more information about the high quality STEM programs of study at Eastern Kentucky University please visit their web page at www.eku.edu or speak with a member of the advising staff at the Manchester Regional Campus.
Project Lead the Way is a nationally acclaimed engineering technology program that engages students in scientific inquiry, design thinking, and hands-on learning, said Dr. James M. Davis, Principal of the Laurel County Schools Center for Innovation. Davis further stated, "students need to have access to interesting learning activities that help them apply the knowledge they gain from classroom instruction and Career & Technical Education (CTE) programs offered in high schools and Area Technology Centers provide this exceptional opportunity for students. The business and industry sectors are seeking high school graduates who possess technical skills in addition to their academic foundation. The college and career readiness initiative across Kentucky and the nation seeks to prepare students for the workforce of the 21st century, and CTE programs are accomplishing this goal. For more information about CTE program that may be available in your local schools you can speak with your high school principal or guidance counselor.
The following 5 videos by Ron Curry will take you inside the EKU Manchester Campus for a glimpse of the excitement a VEX Robotics Competition event creates among students, teachers, parents and all attendees in general.