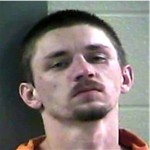 Laurel County, KY - Sheriff John Root is reporting that Deputy Rick Cloyd along with Deputy Jamie Grimes and Deputy Kyle Gray arrested a male subject who gave deputies a false name and refused to give his real name.
The arrest occurred on Terrell Road, approximately 10 miles south of London, on Sunday night, December 13, 2015, at approximately 6:08 PM while deputies were conducting a theft investigation and encountered this subject who appeared to be under the influence.
While deputies were at the scene conducting their investigation, this subject suddenly took off running on foot and following a short scuffle with officers was taken into custody.
This subject was charged with giving officers false name or address; resisting arrest; fleeing or evading police – second degree – on foot; public intoxication – controlled substances; and criminal mischief – second degree.
This subject was lodged in the Laurel County Detention Center.  This subject is listed as "John Doe" on our arrest citation until he gives his correct name.
Photo attached is courtesy of the Laurel County Detention Center.