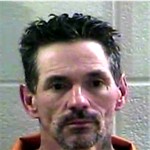 Laurel County, KY - Sheriff John Root is reporting that Deputy Josh Scott along with Deputy John Inman arrested James Forbes, 48, of Laurel Lake Rd., North London, on Monday morning, December 14, 2015, at approximately 8:19 AM.
The arrest occurred off Locust Grove Road approximately 6 miles south of London after deputies were dispatched to a fight complaint there.
Upon arrival, deputies determined that this subject was under the influence.
James Forbes was charged with alcohol intoxication in a public place and was lodged in the Laurel County Detention Center.
Photo attached is courtesy of the Laurel County Detention Center.