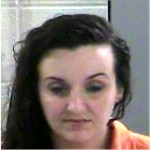 Laurel County, KY - Sheriff John Root is reporting that Deputy Shawn Jackson along with Sgt. Larry Parrott arrested Ashley Asher, age 30, East Laurel Rd., London, early Friday morning, December 18, 2015, at approximately 3:35 AM.
The arrest occurred on East Laurel Rd., approximately 2 miles east of London after deputies were dispatched to a complaint that a silver colored Dodge Avenger was sitting in the middle of the road there.
When deputies arrived at the scene, they located the vehicle sitting in the eastbound lane, engine running, and the driver under the wheel that appeared to be either asleep or passed out with her forehead against the steering wheel.
Deputies were finally able to wake the driver up and detected the odor of alcoholic beverages emitting from her. An investigation was conducted and the driver was determined to be under the influence.
Ashley Asher was charged with operating a motor vehicle under the influence – first offense and was lodged in the Laurel County Detention Center.
Photo attached is courtesy of Laurel County Detention Center.