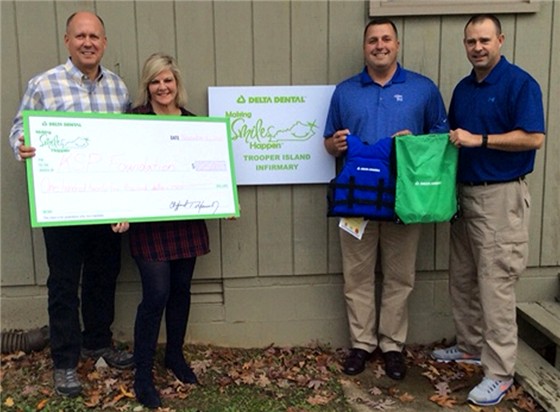 Delta Dental of Kentucky Chief Operating Officer Tammy York-Day presented a check for $100,000 to Kentucky State Police Commissioner Rodney Brewer (left), Tpr. Jonathan Biven and KSP Lt. Col. Brad Bates (far right)
in support of KSP's Trooper Island Camp.
The contribution will be used to build a medical facility on the island which will house a nurse and provide basic care and free dental screenings for campers.
"Delta Dental of Kentucky is proud to expand our support and continue our partnership with the Kentucky State Police for this worthwhile cause," says York-Day. "This initiative will provide each child with the oral health education and hygiene products they desperately need to be healthy. We are honored to align ourselves with an organization that supports our Making Smiles Happen mission to improve the oral health of all children across Kentucky."
Based in Louisville, Ky., Delta Dental, with its affiliates in Indiana, Michigan, New Mexico, North Carolina, Ohio and Tennessee, is part of a family of companies that collectively is among the largest dental plan administrators in the nation.
Trooper Island is a free summer camp for underprivileged boys and girls age 10-12 operated by the Kentucky State Police on Dale Hollow Lake in Clinton County. It is financed entirely by donations, no public funds are used. Each year, the camp hosts approximately 700 children, providing good food, fresh air, recreation, guidance and structured, esteem-building activities designed to build good citizenship and positive relationships with law enforcement officers. For more information about Trooper Island, visit http://www.kentuckystatepolice.org/island.html