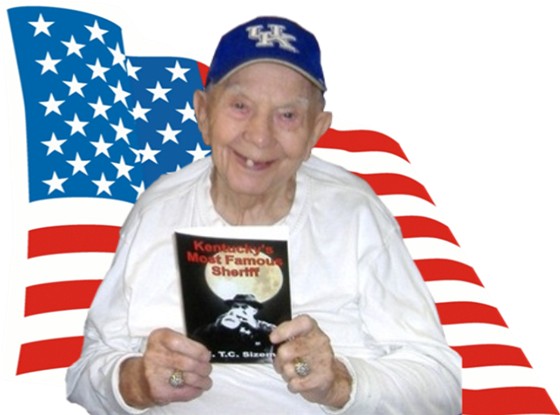 Soldier - Teacher - News Corespondent - Publisher - Politician
Manchester, KY - A native of Clay County, Kentucky, the legendary Col. Sizemore was a veteran of World War II and over the course of his colorful career, was a school teacher, served as High Sheriff of Clay County, Kentucky and owned and published newspapers in Kentucky and Tennessee.
Col T.C.passed away on Saturday afternoon December 26, 2015 at the Laurel Creek Health Care Center.
Thomas Curtis Sizemore saw action in the Western Pacific, under Gen. Douglas McArthur, during World War II. Subsequent to the war, Col. Sizemore ran for the office of sheriff, was elected and became famous for his campaign against moonshine traffickers in Clay County.
During his four years as High Sheriff of Clay County, Kentucky, T.C. made history by destroying more than 500 moonshine stills.

Col. Sizemore was also a close friend of World War I Hero, Sgt. Alvin York.
T.C.'s longtime neighbor and favorite caregiver, Mechelle Fair said "God has called a Special Angel to Heaven. Mr.T was a great person and very special to me, Col. T.C. will be dearly missed by countless friends, I loved him more than words can describe - Mr.T you have earned your WINGS!"
Pictured is Col. T.C. with his book "Kentucky's Most Famous Sheriff" published in 2013 by C & M Publishing.