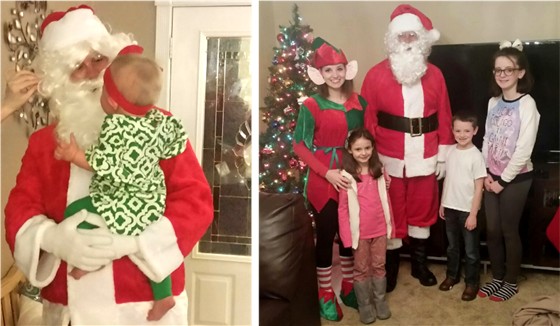 (London, KY) - On Tuesday December 22nd 2015, Officer Chris McQueen and Inspector Holly Smith from KSP/CVE Region Four along with Region Commander, Captain Shawn Hines who dressed as Santa, spent the evening visiting multiple counties throughout the Region dropping off gift bags to Region Four Officer's and Inspector's children.
The gift bags consisted of candy, sweets, and gifts to help warm the hearts of the kids and their families. Captain Hines stated, "William Arthur Ward said, 'Feeling gratitude and not expressing it is like wrapping a present and not giving it.' I thank these guys and gals for the job they do. They are tasked with such a demanding job of keeping our highways safe and they do this with little public recognition and at a starting pay of only $12.35 an hour. This was a simple gesture but I wanted to express my gratitude to the Region Four Officers and Inspectors and their families on just how much they mean to me."
Hines reached out to over 25 children in Pulaski, Rockcastle, Laurel, Knox , and Whitley Counties. The gift bags were provided by the Cumberland Valley Cruise In Car Club of Corbin Kentucky.
(Photo includes: Elf - CVE Region 4 Inspector Holly Smith and Santa - CVE Region 4 Commander Captian Shawn Hines