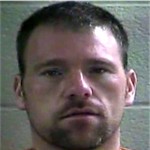 Laurel County, KY - Sheriff John Root is reporting that on Tuesday, December 29th, at approximately 11:00 AM, Deputies Josh Scott and John Inman responded to assist Probation and Parole after they had received information that James Smith, who was wanted for Probation Violation, was seen walking along US 25 north of London.
Deputies along with Probation and Parole responded to the area and located James Smith, age 35, of London, walking along US 25 approximately 3 miles north of London.
Upon seeing the officers, James Smith attempted to flee on foot and after a short foot chase into a field, he was arrested and charged with Probation Violation, Fleeing and Evading Police and Resisting Arrest. He was lodged in the Laurel County Detention Center.