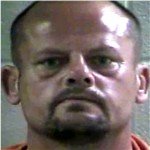 Laurel County, KY - Sheriff John Root is reporting that Deputy Rick Cloyd along with Deputy Travis Napier arrested Scottie Seeley, age 46, of Sinking Creek Rd., London, on Thursday afternoon, December 31, 2015, at approximately 5:20 PM.
The arrest occurred off Sinking Creek Road, approximately 4 miles west of London after this subject was charged on a Laurel County warrant of arrest charging receiving stolen property under $10,000.
The investigating officer, Deputy Rick Cloyd, advised that he had investigated the theft of a 1973 Honda motorcycle and through investigation, he had received information on its whereabouts.
Deputy Andrew Lawson assisted on the recovery of the reported stolen motorcycle at Scottie Seeley's residence and returned it to its lawful owner.
Scottie Seeley was lodged in the Laurel County Detention Center.
Photo attached is courtesy of the Laurel County Detention Center.