Laurel County, KY - Sheriff John Root is reporting that Deputy Kyle Gray along with Deputy Jamie Grimes arrested two individuals at the Dollar General Store at East KY 80 and Rough Creek Road, approximately 6 miles east of London, on Monday afternoon, January 4, 2016, at approximately 2:30 PM.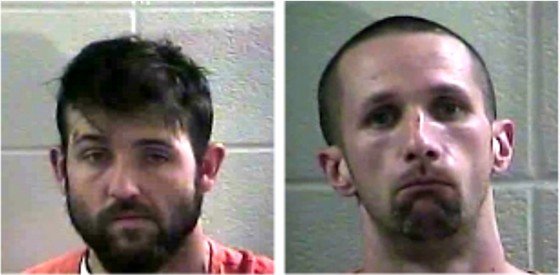 Deputies were dispatched to a complaint that two male subjects were shoplifting in the store. Deputy Kyle Gray was the first deputy on the scene and encountered one of the two suspects attempting to leave the store in his red Chevrolet Silverado.
Deputy Gray conducted an investigation and learned that the subject and another subject had allegedly been observed concealing merchandise inside the store. This subject attempting to leave was also determined to be under the influence – and admitted to snorting meth and taking Suboxone and Xanax.
This subject was arrested and was identified as Christopher Blanton, age 28, of Court Rd., London, charged with operating a motor vehicle under the influence – second offense; driving on DUI suspended license – first offense; failure of non-owner operator to maintain required insurance first offense; no registration plates; no registration receipt; careless driving; possession of drug paraphernalia; and possession of a controlled substance first-degree first offense – methamphetamine and theft by unlawful taking – shoplifting.
During arrest, this subject was found in possession of two Suboxone strips and a quantity of a white crystal powder believed to be methamphetamine. Also, this subject was charged on a Laurel County bench warrant of arrest for failure to appear in court regarding a charge of operating a motor vehicle under the influence.
Deputy Jamie Grimes arrested the second individual following an investigation. Apparently, the second individual, upon seeing Deputy Gray arrive, attempted to discard the stolen items in an aisle near the back of the store.
This second individual is identified as Michael Osborne, age 30, of McWhorter Road, London, charged with theft by unlawful taking – shoplifting and disorderly conduct – second-degree. Apparently, this subject began cursing the manager of the store and created a disturbance there while being interviewed by Deputy Grimes.
Both individuals were lodged in the Laurel County Detention Facility.
Photos attached are courtesy of the Laurel County Detention Facility.