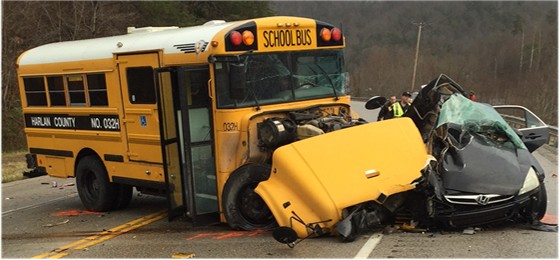 (Harlan, Ky.) – On January 8, 2016 at 7:06 a.m. Kentucky State Police, Post 10 Harlan received a call of a two vehicle collision involving a school bus on U.S.119 in the Blair community of Harlan County. Troopers from Post 10 responded to the collision.
Preliminary investigation indicates a 2007 black Honda Accord was traveling north on U.S. 119 when the vehicle crossed the center line striking a school bus head on that was traveling in the south bound direction of U.S.119.
The operator of the Honda Accord was pronounced deceased at the scene by the Harlan County Coroner. No other occupants were in the Honda Accord. A student, teacher's aide, and the driver of the bus were transported to Harlan ARH hospital with non-life threatening injuries.
At this time U.S.119 is completely closed and will remain closed for approximately one hour. Names of the individuals will be released later today. KSP along with the Harlan County Coroner's Office is still attempting to make contact with next of kin of the deceased.
Kentucky State Police Accident Reconstructionist along with troopers are still on the scene collecting information. Also assisting at the scene are Tri-City Rescued Squad, Life Care, Benham Police Dept., Lynch Police Dept., Cumberland Police Dept., and Harlan Sheriff's Dept.