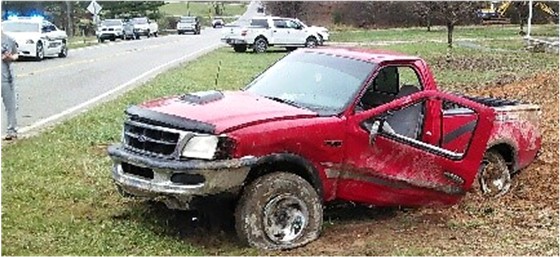 Laurel County, KY - Sheriff John Root is reporting that Deputy Josh Scott along with Lieut. Greg Poynter and Deputy Keith Dinsmore investigated a single vehicle injury traffic crash which occurred on Somerset Road (Ky 1956), approximately 4 miles west of London on Saturday morning January 9, 2016 at approximately 11:23 AM.
Investigating deputies report that apparently a red colored Ford F1 50 was traveling eastbound on Somerset Road when he rounded a curve and his vehicle began to slide due to water on the roadway. The vehicle slid off the roadway and struck a large ditch.
The driver and only occupant of the vehicle was identified as Rex Middleton age 18 of Sinking Creek Rd., London – transported by Ambulance Inc. of Laurel County to St. Joseph Hospital London for treatment of serious injuries.
Assisting at the scene was: Ambulance Inc. of Laurel County and Swiss Colony Volunteer Fire Department.
Photo of crash site provided by Deputy Josh Scott.