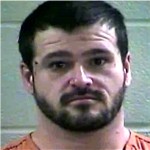 Laurel County, KY - Sheriff John Root is reporting that Deputy Shawn Jackson along with Deputy Tommy Houston arrested Michael Medlock, age 35, of Falls St., London, early Tuesday morning, January 12, 2016, at approximately 1:39 AM.
The arrest occurred off Pleasure View Road, approximately 2 miles south of London after deputies were dispatched to a complaint that a male subject was inside a storage building behind a residence that belonged to someone else and would not open the door.
In addition, while deputies were en route, they learned there was outstanding warrants for this subject. When deputies arrived at the scene, the male subject who had a female subject inside the building with him refused to open the door. The owner of the storage building gained entry.
When arrested, the male subject became aggressive toward deputies, dropping his pants and his underwear exposing himself to deputies and others at the scene. The male subject began physically fighting with Deputy Jackson and following a struggle with deputies was taken into custody.
Deputy Jackson received a serious laceration to his hand that required medical treatment including stitches at St. Joseph's Hospital in London. Deputy Jackson's uniform was destroyed.
Michael Medlock was charged with disorderly conduct – second degree; alcohol intoxication in a public place: menacing; resisting arrest; terroristic threatening – third-degree; indecent exposure – second-degree; assault – third-degree – police officer is victim; criminal mischief – third-degree.
In addition, this subject was charged on three Laurel County bench warrants of arrest for failure to appear in court. Michael Medlock was lodged in the Laurel County Detention Center. Photo attached is courtesy of the Laurel County Detention Center.