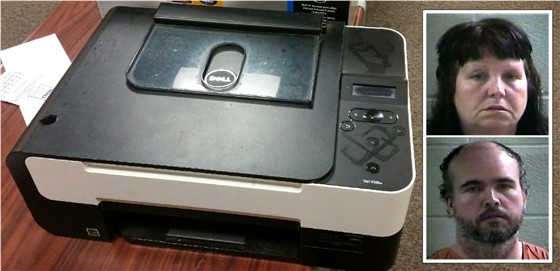 Laurel County, KY - Sheriff John Root is reporting that Sgt. Brett Reeves charged two Knox County residents regarding the investigation he conducted after two suspects-- a male and a female, made purchases on January 9, 2016 and January 10, 2016 at Walmart near Corbin in southern Laurel County using counterfeit $100 bills – a total of seven bills were used at that store.
Information and photo surveillance of the two suspects was released to area media and posted on the Laurel County Sheriff's Facebook page on Monday night. Numerous tips and information concerning two possible suspects who lived in Knox County were given to the Sheriff's office.
On Tuesday morning, Sgt. Reeves traveled to Barbourville and with assistance from Barbourville Chief Winston Tye and Sgt. Robert Brown, officers were able to locate the two suspects and following an investigation, both individuals were arrested and charged.
The two arrested are identified as:
Anette Hammons age 57 of Ruggle Street, Barbourville charged with criminal possession of a forged instrument – first-degree.
Her brother Thomas Hammons age 37 also Of Ruggle St., Barbourville also charged with criminal possession of a forged instrument first-degree.
Apparently, these two subjects were using a home computer and a home printer to print the counterfeit $100 bills. A corner of a copied $100 bill was recovered in the residence.
Both individuals were lodged in the Laurel County Detention Center.
Printer photo by L.S.O. - Inset photos are courtesy of the Laurel County Detention Center.
Sheriff Root extended a thanks to all area citizens for their valuable tips on this case.
In less than 18 hours, this case was solved with arrests. As always, our team (L.S.O. and citizens) continues to work together to make Laurel County a safer and better place to live.