Laurel County, KY - Sheriff John Root is reporting that Sgt. Brett Reeves is investigating a single vehicle injury traffic crash that occurred on KY 192, approximately 1 mile west of London on Thursday morning, January 14, 2016, at approximately 10:09 AM.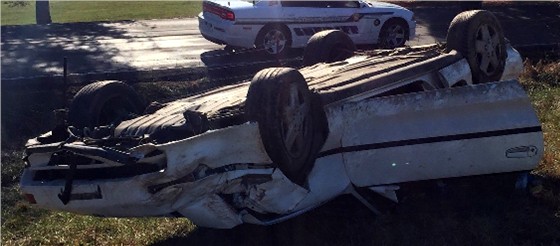 The investigating deputy reports that apparently, a white colored 93 Toyota car lost control, ran off the roadway and overturned ejecting the driver there. The driver was identified as Ronnie Osborne, age 20, of Conley Rd., London – transported by Ambulance Inc. of Laurel County to St. Joseph Hospital London for treatment of injuries.
Sgt. Reeves cited the driver for DUI (since he was injured and taken to the hospital). Additional charges are pending. Assisting at the scene of the crash was Constable Chris Webb, London City Police, Ambulance Inc. of Laurel County, Laurel County Fire Department, Bald Rock Fire Department, and Laurel County Rescue Squad. Photo of crash attached.